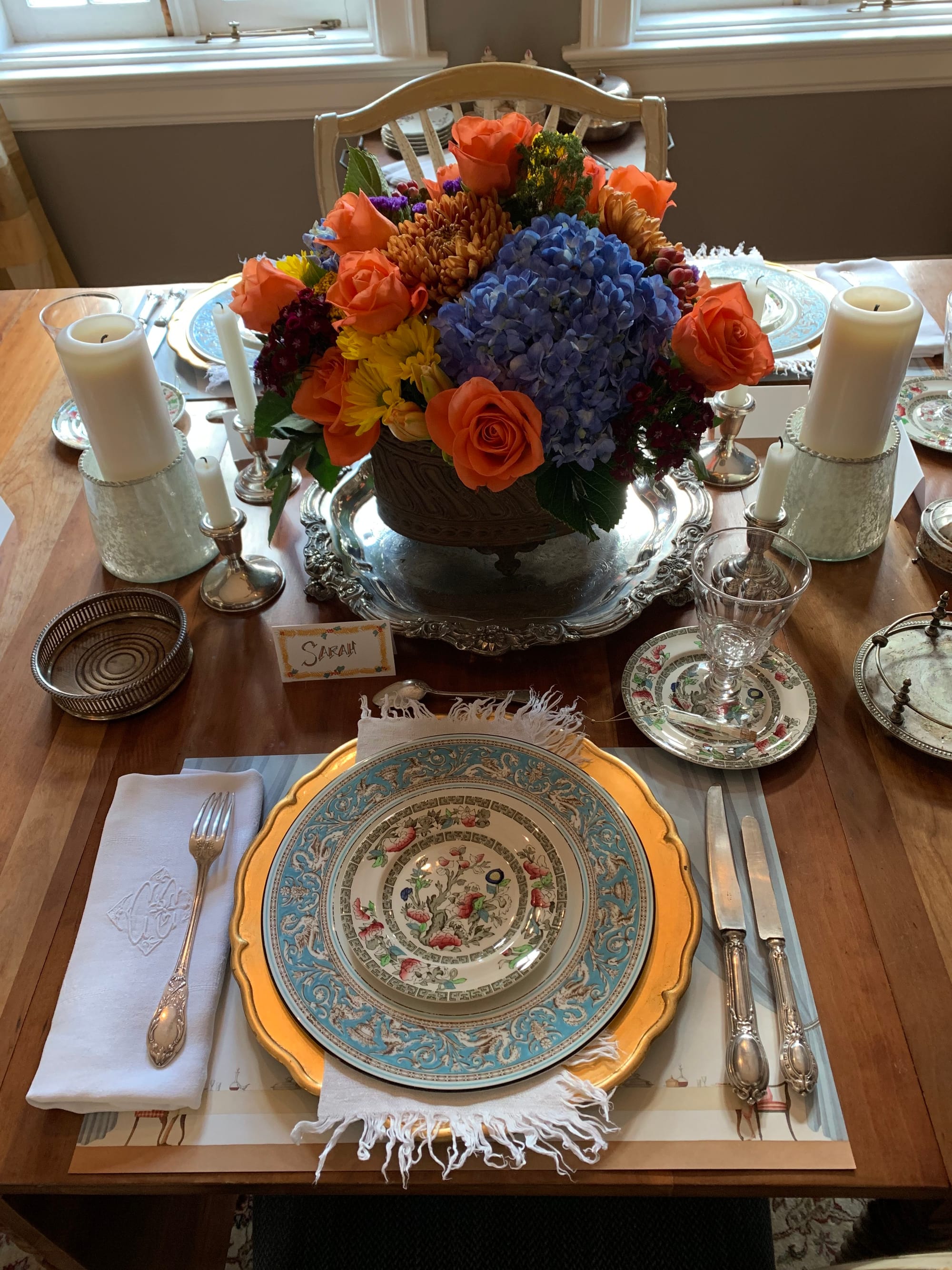 Over the last 6 weeks I have had the delight of being in my second home, France. Every time I visit this fantastic country, I learn more of the language and its lovely phrases. Some I laugh at with friends as they sound a bit odd, Like the one "when chickens have teeth"...its kind of the same as when Americans say "when pigs fly". This time however, I discovered a French phrase that my darling friends Emi and Mr. X had pinned to their refrigerator. It stated, " tu mets les petits plates dans les grands"! My heart skipped a beat knowing that this darling French phrase was written just for me....or I felt like it was just for me.
This phrase means, "to put the small plates with the big ones" or basically to invite friends and family to your beautiful table to show them how very much they are welcomed and loved. This is the story of my life. It is truly my joy in life to entertain my loved ones, friends and family and a few strangers...at my table. I relish the art of setting a beautiful table and putting the "small plates on the big ones". Just yesterday, I had a friend to my apartment in America for brunch, her first reaction to the table was, "you went to all this work to make it lovely, just for the two of us?" Of course, I said, the amount of love you put into dressing the table, shows the people dining that they are of worth to you and appreciated.
Now I am not saying that a table has to be dressed beautifully all the time, I am just saying to me the art of making it pretty and welcoming is part of how I show my love and appreciation of the person or persons. I have made pic-nics in the Loire Valley feel beautiful as well, with pretty paper napkins, a sweet drop cloth for the ground and lovingly made fresh baguette sandwiches...and champagne is a must at French pic-nics. Lets face it, in todays world sitting for a couple of hours at a table in the home to dine is a rare event. Less and less as we get busier and busier. This is one of the things I appreciate so much about my French friends, they dine they do not eat. It's an event. Lunch even for the French businessman or bricklayer is two hours and includes wine! We are lucky in America to have 20 minutes for fast food. I do understand that the pace in the two countries is very different but somehow I like the way it feels to just relax and feel the joy that dining at a lovely table or pic-nic brings.
Again, this is my story, it is how I show my love to others. Even with my darling husband, each night when he comes home we have candles, flowers, linen napkins and a lovingly set table. He selects the wine! As we are empty nesters we can take the time to do this and it's a blessing. We share our day, we laugh, we discuss, and we are grateful. It is not a two hour event as it might be when we are in France, but it's about the quality of the time not the quantity.
The delight I found in knowing that there is a French phase to describe the essence of who I am when I entertain was just too much for me not to share. In the hustle bustle of our lives, we should not look back at the end and say I wish I had taken more time to sit and dine and "be present" for the people in my life. We should allow ourselves the precious moments to let others know that they have value, they are loved and we have taken the time to show them that with a gracious table and the effort made "to put the small plates in the big ones!" These will be the memories you look back on with joy and treasure.